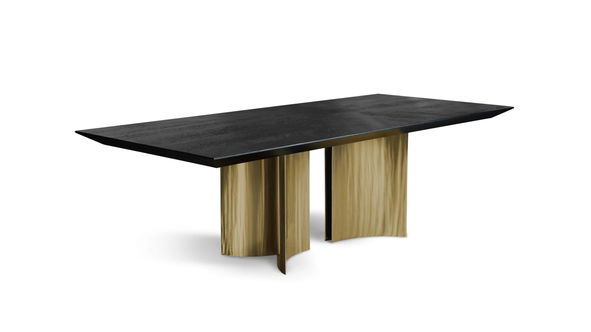 € 5.222,-
excl. Shipping costs
Delivery Time: 9 - 12 weeks
Characteristics:
Custom-made tables OHLINDA and SAMURAI: Handcrafted legs made from steel, polished, covered with a shiny, polychrome golden finish; steel frame. Table top and base packed separately. Burnt oak tabletop: rustic solid oak, laminated in various layers, flamed the Japanese "Shou Sugi Ban" way; soaked in resin, fixed with a durable finish. White stone tabletop: MDF core covered by polymer concrete (made by mixing high-quality epoxy resins with quartz powders); transparent epoxy resin surface covered with a super-mat coating containing quartz powders. Crafty, irregular, stone-like look on the tabletop and its edges with individual indentations. Tabletops are only available with the original BRETZ frame.
The table shown has the dimension of 240cm x 105cm. This table is also available in the standard length 200cm x 105cm or special length 160cm-300cm x 105cm.
The offer applies to the product described without possibly, shown pillows, blankets or other accessories.